It is a fact. Investment in Marketing content (Content Marketing) amounts. It is not just the fact that their effectiveness is growing and gaining credibility among advertisers, brands and of course, consumers, if not because it is an effective tool to generate perceptions of our brand and its values. Moreover, according MarketingCharts, branded content is one of the most reliable sources for consumers. If these channels are generating confidence and attention and are part of everyday consumer, there is no doubt that 'must be'.
One of the greatest misfortunes that can have a brand, whether small or 'big', is having the wrong brand image projected in the mind of the consumer. The success of a brand and therefore a company, it begins with knowledge within of your target audience so you can have a proper representation of it . There is no doubt that e Social media environment and the actions of Content Marketing help. These channels are a powerful tool to expose brand values ​​as stories, powerful testimonies, designs and graphics can create a brand personality that will help differentiate the company or brand.
Not worth it. The difference consumer well what persuasive communication. the actions of Social Media Marketing should it be rooted not only in the history of the brand, but also the experience that believes in users. Today, a unique experience – one that can be media attention generated by the consumer – is so important in building the corporate image to convey the story. You work on the positioning of the brand within the company focuses on the mission of transmitting it and credibly demonstrate (within a strategy, content, videos, infographics … for example) and consistent. Moreover, according to Nielsen (graphic) confidence in these channels increases exponentially.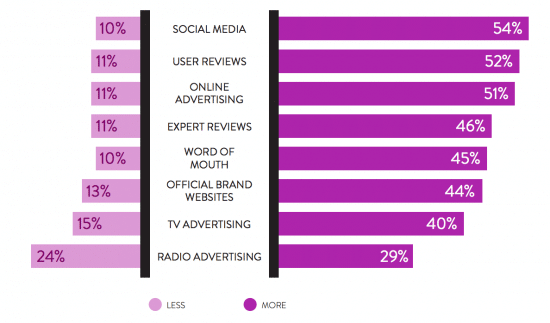 A great example is Unilever or Pampers, which several years ago decided to change their positioning based on storytelling content with turning brand new environments and concepts like "vitality" or, in the case of Pampers, not focus on that are the dry but those who 'make the child sleep more …'. Look what a change of perception thanks to the strategy of strengthening content and social media, integrated with other actions. If we add some background work in the long run, with content, new channels, stories, arguments, generation of content by users, we have a sophisticated system of content that are capable of generating a correct positioning in the mind of user.
Finally, keep in mind that the change in perception is not achieved in the overnight, no. The history of the brand not define platforms, it defines the strategy. It should be built with the public in mind and must be sufficiently integrated and inspired by values ​​to boost the connection with the mission of the company.